Christmas is just around the corner and you start to ask yourself like every year: "What should I buy this person? What would this person like? Hm, definitely not socks again".
So to take the work off your shoulders I went on an Amazon search for true treasures and found the 21 best gifts for our spiritual friends.
I organized the gifts by the categories chakras, law of attraction, witches, and spirituality, so there is a gift idea for each and everyone!
Note: This blog post may contain affiliate links, that help me create free content for you!
THE BEST GIFTS FOR SPIRITUAL FRIENDS: CHAKRA
1. Chakra Therapy Starter Collection
I have bought this Chakra Gemstones and Crystals set for myself and I love it!
It includes 7 beautiful, raw chakra stones, 7 gemstones, an amethyst cluster, a rose quartz pendulum, a chakra lava essential oil diffuser bracelet, and dry rose petal for cleansing your crystals!
They also include a certificate of authenticity for your stones, so you can be sure you get real stones and not plastic.
2. Chakra Towel
This beautiful Chakra Towel can be used for meditation, yoga, or just as wall decor!
3. 7 Chakra Healing Gemstones and Crystals Hanging Ornament
You can use this ornament for chakra healing or just as home decor to enhance the energy flow!
4. Purification and Chakra Healing Sage Smudge Candle
Burning sage is a cleansing ritual that banishes the negative energy from the air.
Sage is also used to enhance intuition, so while burning this beautiful candle, you can let go of negative thoughts and energies, set an intention for your life, and manifest it.
You should open a window while using this candle so that the negative energy can be released.
5. Grounding Sheet with Earth Connection Cable
The first time I stumbled over this product, I was researching how to balance my root chakra. The answer was simple: grounding.
And this blanket serves exactly this purpose because it connects you to the earth's essential energy while you sleep.
Possible health benefits are: deeper, better quality sleep, less stress, more energy, reduced menstrual symptoms, reduced or eliminated chronic pain, calm and balance in the root chakra, and many more.
THE BEST GIFTS FOR SPIRITUAL FRIENDS: LAW OF ATTRACTION
6. Law of Attraction Planner
This planner is not only beautiful, it is everything you need to structure your life for ultimate success.
It helps you find your purpose and passion and create a crystal-clear vision for your life with a matching vision board. In addition, it will assist you in setting goals and achieving them.
You can also create a mind map to visually depict your goals and how to achieve them.
This law of attraction planner also provides you with tools, like customized affirmations for each emotional state, to keep your vibes high for fast manifesting!
If you don't buy it as a gift for a friend, then do yourself a favor and buy it for yourself!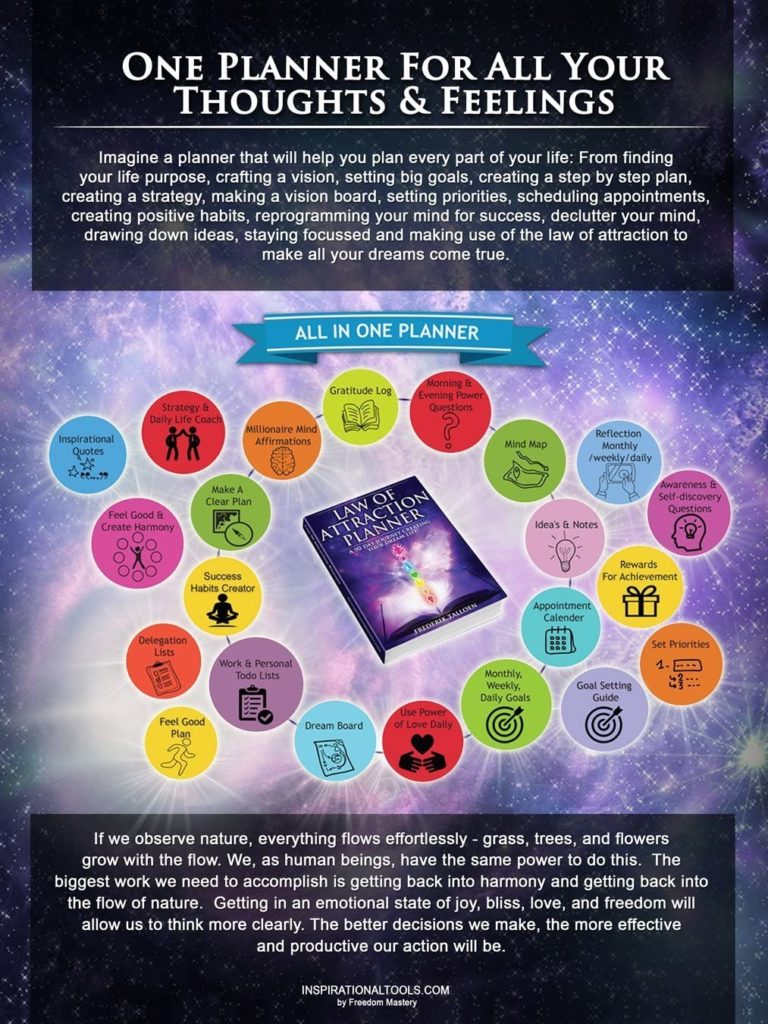 7. Super Attractor: Methods for Manifesting a Life beyond Your Wildest Dreams
The best-selling author Gabrielle Bernstein explains in her book how you can achieve more by doing less.
She also shows simple ways to create and attract the dreamlife you always wanted and how to get access to spiritual guidance.
8. Money Magnet Essential Oil Blend Aromatherapy Spray
This spray helps you to clear and dissolve emotional patterns that prevent you from manifesting more money.
If it really helps to attract money is another question. However, it can definitely be used to clean up bad energy!
It has a positive and energizing effect to keep you your vibes and motivation high.
THE BEST GIFTS FOR SPIRITUAL FRIENDS: WITCHES
9. Sage Smudge Kit
This Smudge Kit is the go to starter-pack for spiritual cleansing.
It contains 3 sage bundles, an abalone shell, a feather, a tripod stand and sand.
10. Abalone Shell And White Sage
This beautiful alabone shell comes with 3 California white sage smudge sticks and a wooden tripod stand.
The perfect gift for all smudging fans out there.
11. Witches Brew Cauldron Mug
The cutest mug for real witches!
12. Witches Get Stuff Done Coffee Mug
… Or what about this one?!
13. Clear Crystal Ball
The handmade crystal fortune-telling ball is the perfect gift for any witch out there! It attracts positive energy and is available in 10 different colors.
THE BEST GIFTS FOR SPIRITUAL FRIENDS: MINDFULNESS
14. Indoor Relaxation Fountain
This relaxation fountain brings zen to any room!
It comes with an automatic pump, natural river rocks and it is just beautiful to look at.
15. Meditation Cushion
The perfect yoga meditation cushion for yoga and meditation practitioners to improve posture.
16. Seven Chakra Gemstone Tree
A 7 chakra gemstone bonsai tree for the money Feng shui at home!
17. Tibetan Singing Bowl Set
A singing bowl for meditation, mindfulness, inner harmony and inner relaxation.
You also receive an eBook with instructions to get the best results from your singing bowl.
18. Tabletop Fountain
Bring a calming ambiance to any room with this tabletop fountain! It comes with 6 candles and pebble rocks!
THE BEST GIFTS FOR SPIRITUAL FRIENDS: SPIRITUALITY
19. 2 Natural Himalayan Salt Lamps
Himalayan salt lamps provide you with natural lighting and soothing effects for maximum relaxation.
20. Moon Phase Wall Decor
Beautiful wall decor for all worshippers of the moon.
21. Moon Lamp
This Moon Lamp decorates every room in a unique way and each crater is modeled after satellite images from NASA.
I hope you liked my 21 best gifts for spiritual friends!
Comment below other suggestions!
YOU MIGHT ALSO LOVE
THE 3 BEST BOOKS FOR SHADOW WORK
The 11 Best Crystals & Gemstones For Depression
The 32 Most Powerful Chakra Healing Crystals And Stones
My readers support Spirithandbook. When you buy through links on my site, I may earn some coffee ☕ money (which I promise to drink while continuing to support your spiritual journey ✨).